Business Continuity in Uncertain Times – Preparing for future emergencies
unwiredcp
One day or day one? You decide!
All industry sectors, including healthcare, have been coping with the challenges drawn by the pandemic. Businesses have had to keep an eye on rapidly evolving technologies and consumer demands and respond to these changes not just to ensure optimum operation but also to become more resilient to unforeseen events.
The healthcare sector has to rely on data to make critical decisions and hence it requires a lot of computing power for analysis and insights. Data analytics and other tools if used cohesively could transform the sector and better prepare for future emergencies.
According to market research, India's healthcare analytics market is forecast to cross Rs. 47.04 billion by 2025, with a compound annual growth rate (CAGR) of 20.49% between 2020 and 2025. Healthcare analytics is still in its early stages of implementation in India, but it will help medical professionals to fulfill the country's service needs.
Join The Economic Times Live Webinar, Business Continuity in Uncertain Times using cloud services, powered by AISPL, to find out how to use cloud technology to power precision medicine, personalize patient journeys, engage more closely with customers, and ultimately improve outcomes.
Learn about how legacy companies can change for the better by helping you increase the pace of innovation, unlock the potential of data, and personalize the healthcare journey.
Key Takeaways:
Simple data loading, integration, and interpretation of a variety of data types
Keeping up with government regulations that are constantly evolving
How to use emerging technology to deliver health care to all communities
The significance of developing interconnected data solutions for health information systems
Manuj Vangipurapu
CEO Quadone Technologies
Director of Clinion- eClinical Platform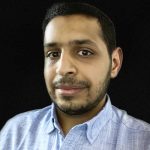 Karan Desai
Sr. Solutions Architect
Amazon Internet Services Private Limited
Agenda
15:00 – 15:05

Opening remarks by ET Edge

Introduce the topic of discussion and the panelists for the webinar.

15:05 – 15:20

In conversation with CIO to discuss:

Unlock what machine learning can do for the healthcare sector
How to empower your researchers, clinicians, and operations teams to optimize their efficiency and make better informed decisions with data transparency, analytics, and ML
Ways to secure and control patient data
Key tools and technologies to enhance the productivity of healthcare industry
Encryption algorithms and data security standards to be followed

15:20 – 15:45

Customer Success Story AWS

15:45 – 15:55

Q&A

15:55 – 16:00

Closing remark by ET Edge