Resilience in Manufacturing industry: Tools to help Business Continuity
unwiredcp
You snooze. You lose.
All industry sectors including manufacturing have had to keep their eye on the ever-changing technology and market needs, and adapt to these circumstances to not only ensure that they operate optimally but also become resilient to future shocks. And technology, especially cloud computing, has emerged as the one constant that has played a critical role in these transformation journeys.
According to IDC's COVID-19 Impact on IT Expenditure Survey, May 2020, 64% of organizations in India are predicted to raise demand for cloud computing and 56% for cloud applications as a consequence of the pandemic's spread. Cloud computing adoption is gaining traction in India and is rising at an exponential rate.
With increasing business complexities, business leaders need to focus their resources on optimizing production, creating new smart-product business opportunities, and improving operational efficiencies across the value chain by upgrading their IT infrastructure that is able to collect and centralize mass amounts of operational data, enable rich analytics, and provide actionable insights. And cloud service providers can offer just that with benefits such as improving operations, innovating faster, lowering IT/OT costs and enhancing security using RPA, machine learning, AI and transforming existing plants into smart factories.
Join The Economic Times Live Webinar, Business Continuity in Uncertain Times using cloud services, powered by AISPL, for transforming your business.
Learn about how legacy companies can change for the better by helping you build, train, and deploy models to generate better data, more accurate analysis, and faster production.
Key Takeaways:
Increase industrial equipment performance
Improve product quality and quality control
Boost operational efficiency everywhere, even in remote edge locations
Develop smarter, more accurate forecasts
Manish Thakar
Information Technology Consultant
Hitachi Hirel Power Electronics Pvt. Ltd.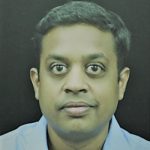 Ramakrishnan Saravanan
Business Development and Strategy Lead – SMB, Amazon Internet Services Private Limited (AISPL), AWS
India and South Asia
Agenda
15:00 – 15:05

Welcome & Introduction by ET Edge

15:05 – 15:20

In conversation with CIO to discuss:

How tools and technology is helping the manufacturing industry sail through these turbulent times.
Which technology to leverage into manufacturing industry?
Create smart products using IoT and Data lakes
Creating a disaster recovery plan in the Cloud

15:25 – 15:45

Success Story by AWS

15:45 – 15:55

Q&A

15:55 – 16:00

Closing remark by ET Edge