Unified Cloud Experience through Scalable & Flexible IT Infrastructure
unwiredcp
The pandemic has given all organizations a reality check that digitalization is a big differentiator and having the right cloud solutions is the only way to be more agile, reliable and performance optimized. In a world that is changing daily, your organization also should be able to navigate challenges and discover dynamic opportunities in real time to help you reduce risk and gain a competitive advantage. However, it's a daunting task for CIOs to ensure that various infrastructure pieces work together in cohesive manner to achieve the true promises of cloud—be it agility, scalability, security, automation or cost-efficient operations.
Establishing an appropriate cloud operating model is critical to forming your organization's successful adoption of cloud and delivering greater business agility. The impact of the cloud will be felt across your entire organization and will significantly affect our organizational culture and delivery structures.
Understanding these implications and your company's desire to change are crucial elements of building a successful cloud operating model.
Most organizations start by taking a traditional project-based approach towards the cloud adoption, And the complexity increases, when business add new cloud environments into the digital ecosystem, thus traditional approaches to managing cloud environments and workloads, must evolve.
Hence, organisations should be looking for a Unified Cloud Experience, where various cloud environments across their digital estate are integrated tightly, thus giving them the balance across the ecosystem and creates a seamless cloud operation.
Learn More About:
A Unified approach towards the Cloud adoption, bringing Infrastructure, Security and underlying Networks under a common umbrella
Simplified migration and on-going management ensuring a scalable and flexible IT
Unification of existing IT infrastructure
Integrated Security and Compliance adherence
This webinar will explore how you can implement Hybrid & Multi-cloud solutions which is backed by a robust global network infrastructure and secured by top-end security solutions that will help you create a seamless Cloud transformation journey for your organization. Let us take a moment to help you rethink the future and grow without the complexity of managing it all by yourself.
Rajesh Awasthi
Global Head -Managed Hosting & Cloud Services
Tata Communications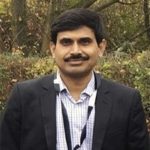 Rafi Shaik
Partner Leader – Migrations
Amazon Internet services Pvt Ltd, India