Is Your Cloud Data Secured & Compliant? Stay Ahead of the Global Threat with Commvault
unwiredcp
Your enterprise got a lot riding on their cloud strategy. Applications, databases, files, hypervisors – the resources that run in the organization. But have you thought of a right Security, Ransomware Protection & Compliance?
Your data will continue to increase exponentially across on-premises and multi cloud environments. Your risk profile will continue to be a huge challenge for you to control, and all this amid constant deluge of regulations.
It is more important than ever before that organizations find efficient ways to achieve a proactive cyber risk posture and a state of compliance readiness. Let Commvault help you gain a more mature data governance footing and optimize your data protection and business resilience strategies.
As an Industry Leader, Commvault software will ensure you meet the availability and timely recovery mandates found in regulations and standards, such as Article 32 of GDPR. You can recover thousands of servers in parallel to multiple destinations across on-premises and cloud.
Join the ET Unwired Session, Is Your Cloud Data Secured & Compliant? Stay Ahead of the Global Threat, powered by Commvault to go deep on cloud data protection against ransomware along with keeping your enterprise data Compliant with global policies.
Join this ET Unwired Session to learn how to
Discover a more efficient way to optimize Business Continuity, improve Data Governance
Make the final frontier in complying with privacy regulations such as GDPR and CCPA
Cloud responsibly with Commvault
---
Speakers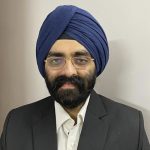 Hardeep Singh Sawhney
Enterprise Technical Consultant
Commvault
Register Now
To subscribe to The Times of India, The Economic Times, Navbharat Times, Mumbai Mirror, Pune Mirror, Ahmedabad Mirror, Maharashtra Times & Ei Samay please click on the below link.
https://subscribe.timesgroup.com/subscription