Secure and Quick Cloud Data Migration for Flexible Business Needs
unwiredcp
2020 has intensified the need to deploy containerization to bundle together all dependencies for an application, reduce the attack surface for hackers and allow portability to different cloud services.
By 2025, 85% of major businesses are expected to have deployed containerized apps, which means they're here to stay.
Since containers are lighter, simpler, and more programmable than virtual machines, they allow application modernization. Containers in today's era help development teams to deploy applications more effectively, and function at a larger scale than ever before.
Kubernetes is a container orchestration system that allows several containers to work together in unison. It oversees areas such as the amount of computing, network, and storage resources available for containerized applications.
One of the easiest ways to add enterprise-grade storage to your Kubernetes applications is with Commvault as it offers high-performance, high availability, and all the other features that come standard.
Commvault offers the most robust and scalable container portfolio of hybrid cloud-native software-defined storage and total data security.
Join the ET Unwired session on Secure and quick cloud data migration for flexible business needs powered by Commvault to simplify your container strategy with Commvault and to migrate workloads across on-premises and multiple cloud locations.
Join this session to learn how to:
Store: Hybrid cloud-native software-defined storage for containers
Protect: Restore stateful applications from malware and other disasters
Migrate: Transfer workloads from on-premises and various cloud locations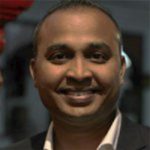 Truptendu Mohapatra
Enterprise Pre-Sales Manager
Commvault