AI Powered EWS for Banks
unwiredcp
In today's uncertain economy, there is an urgent need for corporate banking to evolve its credit risk monitoring practices to a high degree of sophistication so as to maintain a healthy balance sheet.
An Early Warning System (EWS) powered by AI can help financial institutions discern patterns of stress from events. Moreover, such an EWS also helps control for fraud while ensuring quick regulatory compliance.
Join the ET Unwired Session on AI-Powered EWS for Banks, powered by Microsoft and TheDataTeam to learn about the use of AI for continuous risk monitoring. We bring to you a unique perspective on this age-old problem where you can listen to experts on the novel application of technology to solve what has been traditionally attempted using purely relationships and manual scrutiny.
Key Discussion Areas
Hear what more you can do with First-Party Data
See for yourself the power of External Data
Learn how AI can Accelerate Value
Shalaka Verma
Director – Partner Technology
Microsoft India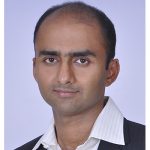 Rangarajan Vasudevan
Founder & CEO
TheDataTeam