Leading the Way with AI-Driven Enterprise
unwiredcp
The Covid-19 pandemic has reshaped various industries. When it comes to the BFSI sector, it is relying heavily on its networks to connect customers, employees, partners and suppliers to a range of applications and services. Though these networks were adequate in the past (during the pre-Covid days), they may no longer provide the level of service required for ongoing competitive advantage in the face of new business initiatives and regulatory compliance obligations.
Adding new applications and updating networks involves risk, including the exposure to new security issues, unplanned downtime and network conflicts. Mitigating risk required an architecture that can deliver network predictability, pervasive security, and application control.
Traditional branch offices are no longer able to provide the security and access flexibility enterprises need to deliver the quality of experience demanded by the business. Organizations require additional capacity and improved application awareness to ensure their users have access from anywhere.
Today, the BFSI sector needs simpler and more affordable networks. It needs networks that will deliver optimized network experiences for users and devices, uncompromising reliability, and built-in security.
In fact, the need of the hour is a solution that can save opex, an AI-driven platform that can deep dive into network and optimize user experience and service assurance. It should eliminate the increasing IT complexity that is a hurdle in realizing the desired business goals.
Join an ET Unwired Session, Leading the Way with AI-Driven Enterprise, powered by Juniper to know how Juniper's AI Driven MIST helps the BFSI sector:
Zero touch deployment
Enterprise at Home solution
Scaling security & WAN
Learn about Juniper's Mist AI-driven platform that gives you a powerful wired and wireless solution by combining AI, machine learning and data sciences, all delivered through a modern and elastic microservices cloud. This allows you to optimize the user experience for your customers while bringing unprecedented insights and automation into the network.
Key Takeaways:
Infusing the power of AI across wired & wireless networks
Empowering IT teams to innovate
Protecting data at the highest levels
Leveraging private and public cloud resources as needed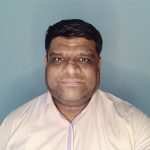 Kewal Patil
Senior System Engineer
Juniper Networks
Pushpal Sarkar
Regional Sales Director, Western Region
Juniper Networks