Why an Open, Hybrid Cloud Architecture is essential to your customer's experience
unwiredcp
Overview
If the pace of the pre-coronavirus world seemed fast, then time, in an evolutionary sense, post the pandemic seems to have transgressed further. Businesses that once mapped digital strategy in one- to three-year phases must now scale their initiatives in a matter of weeks.
In short digital transformation is no longer an option.
Now more than ever, organisations are relying on digital interactions, expecting them to be seamless and secure. Businesses in every single industry are working quickly to develop new and expanded ways to digitally engage with their customers while accelerating their shift to the cloud.
A recent study by the IBM Institute found that Indian firms allocated about 17% of their IT spend towards Cloud and they intend to increase the share of spend on hybrid Cloud from 42% to 49 % by 2023. The majority of their cloud budgets are being allocated to hybrid cloud platforms even as their public cloud spend is set to reduce from 50% today to 43% in the same time period.
Some of the other benefits of cloud computing includes — faster deployment, enhanced security, remote and always-on monitoring, and reduced footprint.
Introducing ET's The Cloud Innovation Series webinar
As enterprises grapple with modernizing operations, the benefits of their digital transformation must be balanced by the certainty that it will bring sustainable value. As businesses realise that questions around digital transformation are changing from "if" anymore; to "how fast we can pivot?" to "what are the costs involved?", the Economic Times The Cloud Innovation Series, powered by IBM, is an effort to understand how enterprises and applications can benefit immensely from discussions on how a string architecture strategy and deep industry expertise are critical to a hybrid cloud journey and digital transformation success. Join the webinar to learn why open architecture matters as business embark on their digital journey and why hybrid cloud matters to bridge the gap between the new world of cloud and traditional technology investments.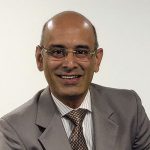 Subram Natarajan
CTO
IBM India / South Asia
---
Agenda
| | |
| --- | --- |
| 02:45 – 03:00 | Registration |
| 03:00 – 03:05 | Opening Remarks by ET Edge/Moderator |
| 03:05 – 03:50 | Speaker session |
| 03:50 – 04:00 | Q&A Session |
| 04:00 | Closing remarks by ET Edge |