Pivoting the Future of Modern IT in a Post-COVID World
unwiredcp
If 2020 was the year of making some hard decisions, 2021 is the year to gauge the outcome of those decisions and to take stock of the challenges encountered to devise a future-proof modern IT architecture.
The pandemic had forced businesses to make difficult choices — Transform their IT infrastructure to enable remote work or save money by not making the transition but sacrifice employee experience and productivity for an unknown amount of time.
However, with time, organizations are realizing that it's high time to accelerate dependency on robust technology, including reliable services, and to increase organizations' need for customizable, modern IT solutions deployed at scale.
As businesses continue to adapt to the new 'Smart Normal', the need of the hour is to invest in the right IT infrastructure to enable employees to work from home securely and plan their move to modern IT post-Covid-19.
They should also contemplate managing IT Fleet proactively through End-to-End and modular deployment model.
For a deep dive into the IT infrastructure arena in the post-Covid world, join us for an ET Unwired Episode, Pivoting the Future of Modern IT in a Post-COVID World, in association with Lenovo.
Key Takeaways:
What steps should your company take as they plan their move to Modern IT post-COVID-19?
How can you maximize the return on your IT Investments over the life of your IT assets?
What steps can be taken to proactively manage your IT Fleet through End to End and modular deployment model?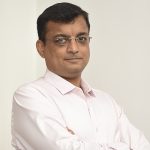 Rohit Midha
Director – Services Sales
Lenovo India