Get Modernisation Rolling – Move from Monolithic to Microservices with Mono2Micro
unwiredcp
Modernisation is hard, but COVID-19 has highlighted numerous case stories that focus on why modernisation is a necessity to survive disruption and win in the new digital market. Companies need strong, personalised guidance to plan modernisation strategically, provide cost savings to the organisation, ability to maximise ROI, and reduce risk.
We know that the best way to modernise your business-critical application is to refactor it into microservices—this approach allows microservice to be independently enhanced and scaled, providing agility and improved speed of delivery.
Join the ET Unwired session to understand how a novel AI technology automates the application refactoring with minimal risk and removes the need for any major rewrite.
What you will walk away with:
Understanding of why refactoring versus rewriting will help your business automate and modernise faster
A peek into the new IBM Mono2Micro (beta), how it provides crucial modernisation and transformation guidance with its AI-infused and built-in knowledge of the Java language.
Practical real-life application and use cases to get your business started on its journey to a microservices based architecture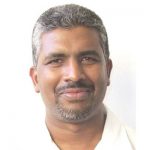 Kalyan Madala
Chief Architect – IBM CloudTM &
Cognitive Solutions- Asia Pacific
IBM Singapore