Digital Finance – Preparing companies for the new normal
unwiredcp
Overview
The Coronavirus pandemic has showed us a dystopian side of life on earth that we could have not imagined easily. One does not need to be a clairvoyant to see how we are struggling to maintain balance between a life-threatening disease and living a normal life.
Similarly, many businesses are facing challenges daily and working towards in solving one problem at a time in order to stay in race. According to the World bank, the world economy is facing its worst recession since World War II and growth is expected to shrink by 5.2 per cent in 2021. Even as several governments across the globe announced relief packages to rescue their economy, many of them will have to face a downturn at least for the short term. Still, the crisis has encouraged incentives for economic transformation and adoption of digital business models.
What we have seen in past couple of months, a high jump in technological advancements throughout the sectors and across functions. Finance being one the function which has been working around the clock since the pandemic hit the world, in order to keep the companies afloat. There have been many down sides to covid-19, but we must say it has fast tracked the digital transformation in businesses. Social distancing and protecting our selves have become a new normal, which has ignited the digital payment methods across levels.
We must adapt to new normal with tools and technologies at hand, together with better strategies we would be able to sail through this current pandemic. Usage of AI and big data is becoming a new normal in setting goals and taking leadership level decisions.
This session will focus on the many facets of the finance domain. It is designed to deliver a summary and practical information to help you understand how digital finance has changed in past few months, role of fintech, AI & big data.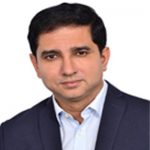 Arnab Roy
Executive Director & CFO
Schneider Electric Infrastructure Limited
Nikhil sharma
Partner – Business Consulting
EY India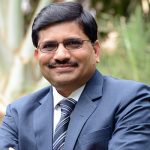 Nitin D Parekh
Group Chief Financial Officer
Cadila Healthcare Limited
Agenda
03:30 – 03:50

Registration

03:50 – 03:55

Opening address by Et Edge

04:00 – 04:40

Panel Discussion - Preparing companies for the new normal

Digital finance before COVID-19: A retrospect
Changes in the finance landscape - Effects of COVID-19
The role of Fintech in times of uncertainty - Lessons learned
Adapting to the new normal with the help of tools and technology
Using COVID-19 to drive greater effectiveness in finance
Setting goals and achieving better strategic outcomes using tactical tools like AI and Big Data

04:40 – 04:45

Q&A from audience and closing