Leveraging Digital to build Safe and Productive Workspace in Current Times
unwiredcp
In the current world of Covid 19, organizations across the globe need to establish and monitor improved health & safety measures to monitor workspace safety, however it's important that these measures don't hamper the organizational productivity and employee's privacy.
A possible COVID spread can happen in an organization, primarily due to the inability to trace contacts who came in proximity of an infected person during the asymptomatic phase. Digital technologies can be of great use here and provide a proactive mechanism to keep the spread under control. Health & Safety, HR and Facility Management teams, and CIOs are looking to deploy the solutions which can help them in rebuilding safer and compliant workplaces that can keep the businesses productive along with safeguarding the employee's privacy.
Birlasoft intelliOpen™ solution, powered by Microsoft Azure, provides you with much-needed defence mechanisms as part of your 'return-to-work' strategy, be it reopening the business or running operations in a sustainable and compliant manner. intelliOpen is an intelligent system that enables contactless screening of people, social distancing monitoring, contact tracing, and facility occupancy-level compliance monitoring, and more. It completely adheres to the global data security and privacy compliance norms.
Join us for an interesting session by ET Unwired to understand how you can Leverage Digital to build Safe and Productive Workspace in Current Times.
Key Takeaways:
Right strategies to re-open your business with confidence – adopt right safety, compliance, and privacy mechanisms
Return-to-work strategies organizations in your industry are adopting and what would work best for you
How intelliOpen can help in controlling the spread of COVID in your organization and mitigating the related risks
Seema Kumar
CTO, One Commercial Partners
Microsoft India
Advait Waghmare
Head of Consulting for Digital Business
Birlasoft Ltd.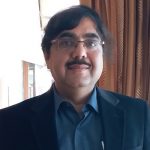 Mahesh Joshi
Practice Head, IoT Solutions and Services
Birlasoft Ltd.