Reimagining the Future of Work – Leadership, Learning and Culture
unwiredcp
"In the long run, your human capital is your main base of competition" – Bill Gates 
The shift is evident, and the very crux of organisations has drastically changed from its traditional identity. At its core, it's a fundamental idea, yet businesses are more and more concerned with the where, what, and how their employees are faring. From becoming an after-thought whispered around the water coolers to an agenda action point at boardrooms, the concept of redesigning organisational culture has drastically evolved, not just in its importance, but the very nature of it.
The Covid lockdown eventually brought to realty the concept of work-from-home to, the culture of work-from-anywhere, owing to the synchrony between access to personal technology and digital connectivity, which is on an upswing. Leaders representing not only businesses but also governments are currently reinventing their success tactics as well as the fundamentals of organisational culture.
The ETILC-Deloitte roundtable discussion brings together industry stalwarts to discuss and deliberate on the evolution of human capital in the new normal, with a strong focus on leveraging technology, skilling & reskilling, digitizing the workforce, organizational culture, managing talent, inclusion & diversity, And the need to integrate and accelerate investments in human resource for greater equity and economic growth,  through  India Inc.
The findings in the report aptly titled  "To the Future – Human Capital  2022 and Beyond." is an effort on the part of ETILC to integrate and accelerate investments in human resource for greater equity and economic growth and will provide CEOs and Heads of Business with statistical information on management and leadership issues. The report comprises of expert analysis and survey data on approaches to transform human capital outcomes through hybrid work, organizational culture, transformational work technologies and investments. The work includes opinions of business leaders representing India Inc. And is written in collaboration with Deloitte as its knowledge facilitator.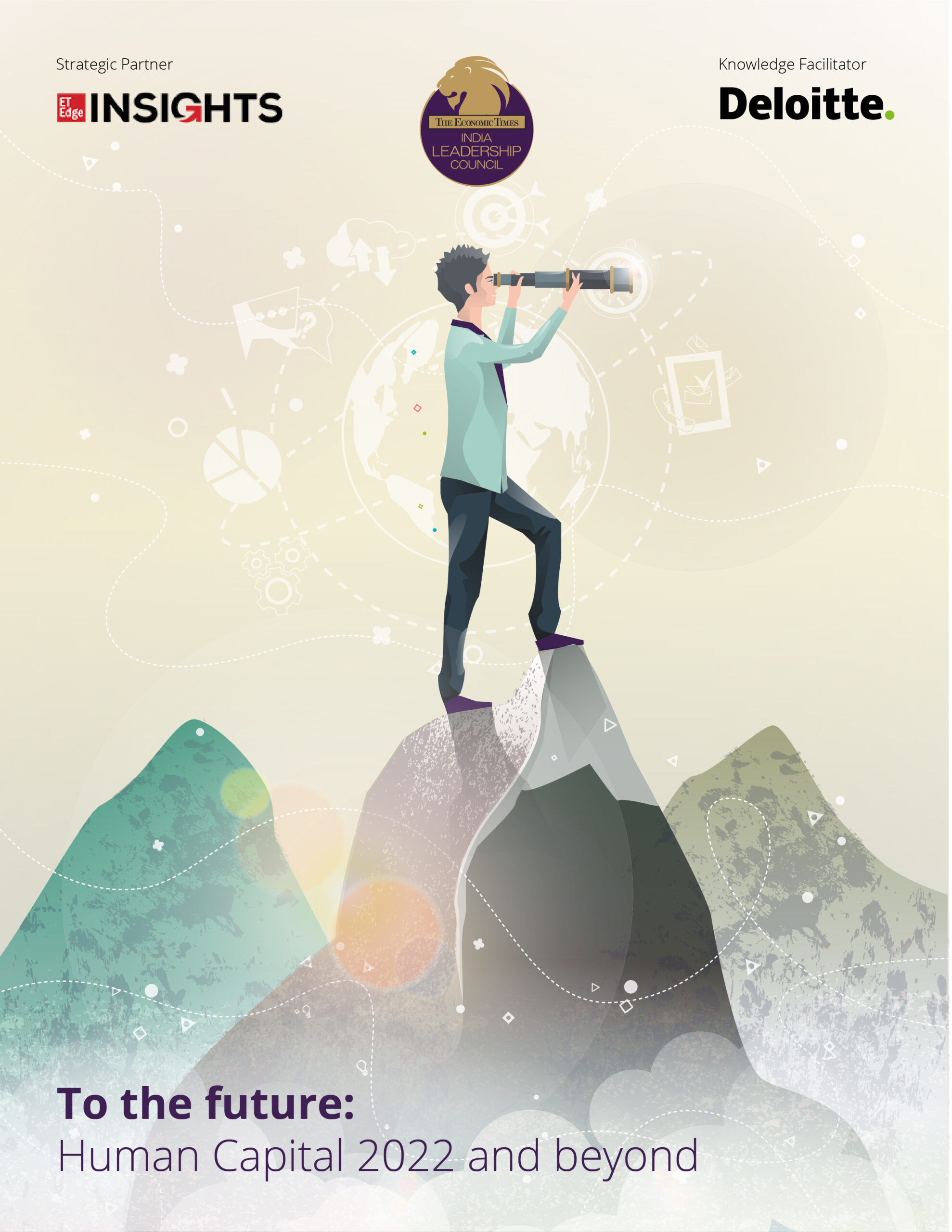 Report Launch: Human Capital Strategies for 2022 and Beyond
Join us on Thursday 28th July from 04.00 pm to 06.00 pm 
---
Agenda
04.00 to 04.10 pm
Registration
04.10 to 04.15 pm
ET Edge – Welcome Address
04.15 to 04.20 pm
Deloitte – Introductory note
04.20 to 04.35 pm
Keynote Address by Chief Guest
TBC
04.35 to 04.40 pm
Launch of the Report on Human Capital titled
"To the Future – Human Capital 2022 and Beyond"
by the Economic Times India Leadership Council (ETILC), with Deloitte India as its Knowledge Facilitator in collaboration with ET Edge Insights
04.40 to 05.40 pm
"Reimagining the Future of Work – Leadership, Learning and Culture."

The roundtable discussion aims to highlight the evolution of human capital in the new normal, with a strong focus on leveraging technology, skilling & reskilling, digitizing the workforce, organizational culture, managing talent, and HR investment priorities.   And the need to integrate and accelerate investments in human resource for greater equity and economic growth,  through  India Inc.

Panelists

Sanjiv Navangul, MD&CEO, Bharat Serums & vaccines Ltd (BSV)
Harit Nagpal, CEO, Tata Play
Venkatraman Gopalakrishnan, CEO, TVS Credit Services Limited
Ms. Jasneet Kaur, Director, People & Culture, IPM India

Moderated by: Saurabh Dwivedi, Partner, Human Capital, Deloitte


05.40 to 05.45 pm
Wrap up and conclusions
*Agenda is work in progress and is subject to change
Contact Us
Address:  Lotus Corporate Park, 19th floor – 1902 and 1901, G – Wing, Off Western Express Highway, Geetanjali Railway Colony, Laxmi Nagar, Goregaon (East), Mumbai – 400063